Testimonials
"Thanks so much for your quick response. I received the hangers this morning in excellent condition and was very surprised . . ."
more...
Adjustable. Easy To Install. Fast and Secure!
TrackMaster® Picture Frame Hangers are the quickest and easiest way to hang art, photographs, mirrors and other wall art. Picture Hanging Systems are used by professional installers who demand straight & secure displays. No wall studs are needed – even heavy picture frames hang securely on drywall. The adjustability and built-in automatic leveling are why over 12 million have been sold.

View short videos of customers and professionals using TrackMaster® Picture Frame Hangers to install wood and metal frames. 
These videos provide excellent instruction on everyday use of picture frame hangers and how they adjust for perfect installation displays.  See the famous TrackMaster® built-in bubble level ensuring perfectly straight installations!  Hanging pictures, mirrors, diplomas and all types of wall art is easy and quick with all of our adjustable and secure picture frame hangers.
Learn how to adjust picture frame positions without re-hanging.  TrackMaster® Picture Frame Hangers make it easy to place art in the right position without having re-measure.
That's why professional installers prefer TrackMaster® to any other hanging system - they save time and hang pictures straight!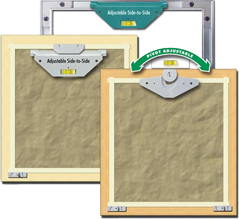 Slide adjustable and pivot adjusting picture frame hangers by TrackMaster® help you install art like a professional in just minutes!  TrackMaster® Picture Frame Hangers can reduce installation times by up to 33%!  Save time and money with these adjustable and secure picture hangers.

Easy to follow instructions for TrackMaster® Picture Frame Hanging Kits include photos, diagrams and downloadable pdf files for wood and metal picture frames.
Instructions include tips on how to set picture frames in walls using the leveling system on TrackMaster® Pivot Hangers which is excellent for single piece installations such as mirrors or diplomas.  If you have unique needs, please feel free to contact us with questions - HangFrames.com is ready to help you find the right solution for your picture frame hanging needs.
TrackMaster® Picture Frame Hangers have built-in bubble levels that help you hang art straight and the adustable features of the wood and metal frame picture handing kits also make it easy to group pictures on walls with perfect spacing for attractive looking art displays.